You must be thinking I had gone mad for going on a road trip back-to-back for the past few days… well, you are right. As I am typing this, I am suffering some a mild ingestion. But this trip is worth every mouthful.
We drove to Sitiawan on drizzly Saturday evening, as soon as Kikuchi knocked off work. As soon as we turned into the highway, Sailor Boy complained he was hungry. It's not even 6 pm yet. We made a brief stop at Sg. Buloh jejantas for a quick bite – KFC.
Mr Ketchup: I want snack plate – chicken thighs only okay! Hot & spicy. And I want orange. Thanks.
Kikuchi: I want snack plate – two breasts, hot & spicy and Pepsi.
Sailor Boy: Get me dinner plate please. Mix Hot & spicy and original with Pepsi.
Kikuchi: Eh? They don't let you mix. It's either hot & spicy or original. I worked in KFC before leh!
Sailor Boy: I have been ordering this since the day I was born.
Mr Ketchup: Why you ordered original? It's not nice!
As for myself, I ordered a Zinger maxx combo.
Guess who is the uncomplicated one here?
After eating the intricately prepared dinner at KFC, we went on our journey and not even 2 hours later, Sailor Boy complained he is hungry again. And this fella is so damn thin. God is never fair. Instead of taking advised direction from ML to take Gopeng exit, we took the emergency exit to Bidor to eat at the famous Pun Chun restaurant selling Duck Thigh Noodles and Wan Tan Mee.
Apart from Mr Ketchup who traveled before to Lumut once last year, the rest of us are totally clueless on how to get to Sitiawan. Kikuchi failed his geography and Sailor Boy only knows how to read directions from the stars while he is at the sea and unsure whether it might be the same on land, we decided to just follow the road signs and our gut instincts.
We were quite relieved that it was actually a lot simpler to get to Sitiawan through the Bidor exit. You just need to follow the signboard all the way to Pulau Pangkor.
Mr Ketchup: Where is Orient Star?
Me: It's in Lumut town. Jalan Iskandar Shah. The locals told me, it's just along the road. You should not miss it. It's huge.
Mr Ketchup: I don't like the sound of this.
True enough. We didn't see Orient Star Hotel along the road like what other people told us. Damn. It was at the end of the universe after the jetty towards Pulau Pangkor. The irony is, such "famous" hotel don't even have a decent signboard to show the way. We think it would be better to stay in smaller and less expensive hotels or motels (never mind special effects sounds at night) in the future. There has been a few new motels mushrooming around the Lumut area, which look quite decent.
After dumping our knapsacks in the hotel, we went out with our host for the weekend, Hot Momma Sharon. She took us to this Malay stall in Seri Manjong for its famous kueh teow basah. Don't let the picture conned you. It might look somewhat disgusting but the taste is unbelievably good! This is probably the best kueh teow I had, at the beginning of this year! Haha.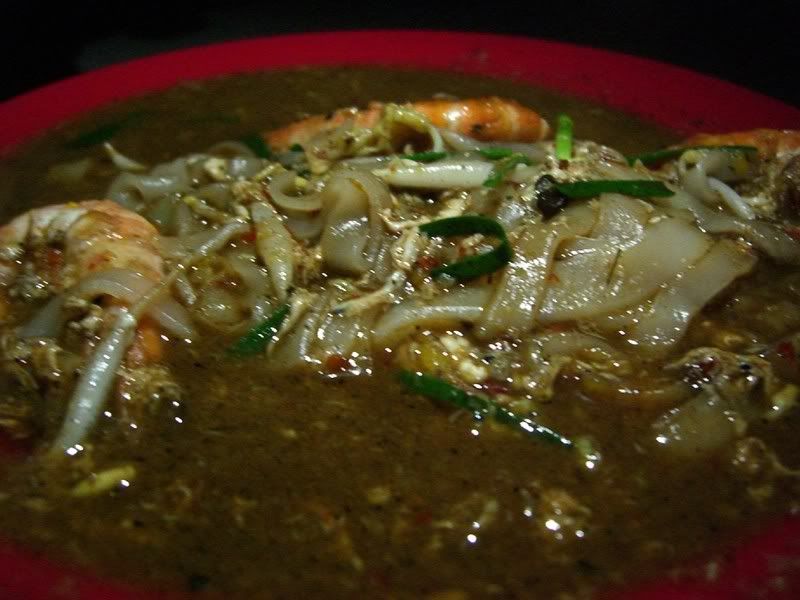 We called it a day once we finished planning for our breakfast, snacks, lunch and tea time tomorrow.
Tags: cuti-cuti malaysia, sitiawan