The day began with light breakfast at the Tiara Coffee House. Hot Momma waited for us at McDonalds' and off we went to have a second breakfast for the day.
The heavenly Bak Kut Teh
We fancied some Bak Kut Teh and this is simply delicious. I cannot remember the name of the shop, but it's along the road in Tmn Aman Muhibbah. We ordered a small steamed pomfret to go with the BKT and the usual yao choy. Even Mr I-am-not-fussy-I-am-particular gave his stamp of approval. The growing boy -Sailor Boy had two helpings of rice.
Packing Tau Sar Piah
After the scrumptious breakfast, we made our way to buy some seafood stuffs and mee sua, in which what Sitiawan is famous for. Along the way, we saw many pre-war buildings converted into nesting ground for swallows, where the expensive bird nests are produced. Sitiawan has many home industries and this is possibly one of the most expensive. They have famous pastries and cookies and we were spoilt for choice. We went on a shopping frenzy.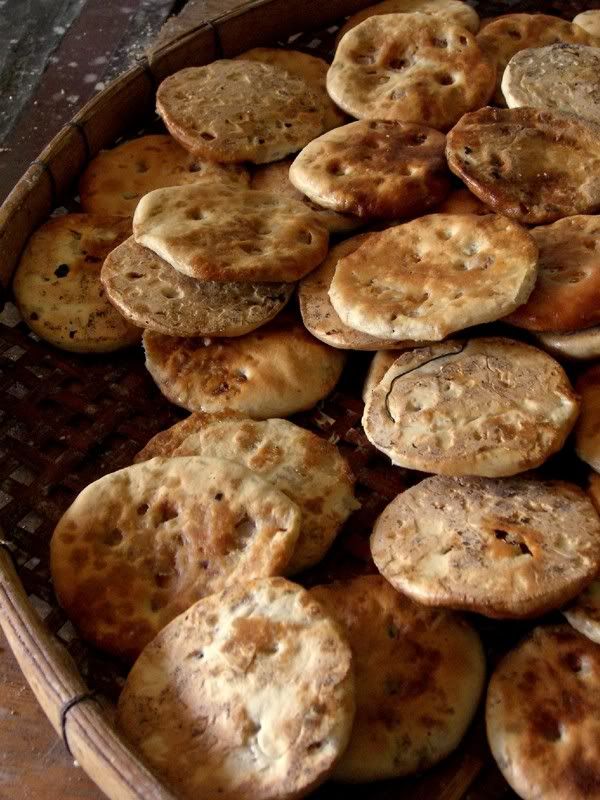 Kong Piah
After that, we went to try the delectable kong piah. As it was a Sunday, there weren't many shops open, surprisingly. We had the second best – according to Hot Momma and it tasted somewhat good. I could still remember I had my first kong piah some 10 years ago when I went to Sitiawan with another friend. It was simply unforgettable. This one is not that bad. It's quite torturing to be eating the freshly baked kong piah under the sun, sweating away profusely. We then decided to quench our thirst at the famous cendol along Jalan Lumut.
Temple along Jalan Lumut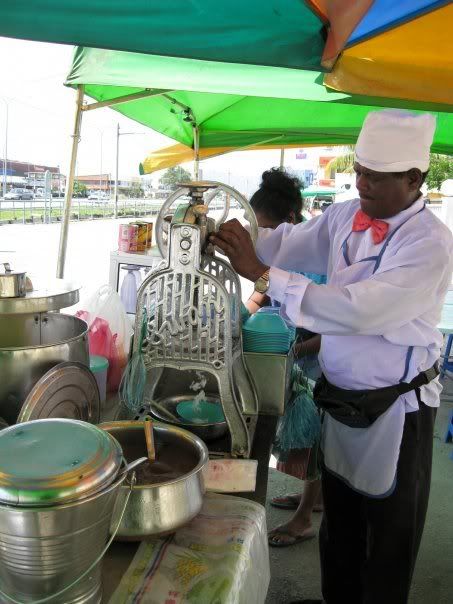 *Mr James Muniandy
The famous cendol stall next to the temple along Jalan Lumut is manned by Mr James Muniandy and his wife. Because of his delicious cendol, Mr James was summoned by the Sultan Perak to prepare his much loved cendol for 250 guests in the palace. You can easily spot Mr James Muniandy. He is always wearing a white chef hat and a red bow tie. The cendol is such a delight to ravish on a scorching hot Sunday afternoon.
Some of us had second helpings of the cendol and our stomachs already hit the maximum capacity. We decided to take a break and went to Sharon's mee hoon factory. This was probably the highlight of the day. Here, we were ushered personally by Sharon and learn how mee hoon is being produced [and also which worker(s) is sleeping with which worker(s) - muahahahahah]. After the educational tour around the factory, we were given souvenirs in forms of packets of mee hoon. Hahhaha! Thanks Sharon for being so generous!
White mee hoon
Furnace to boil water, using timber
After the mee hoon "prize presentation" (I took quite a lot as if our country is going to declare state of emergency soon), we went on to this seafood restaurant called Villa in Kampung Cina to have our lunch. Since we were still stuff till our necks of the food since morning, we decided to go light. Had only 3 dishes and they were simply heaven.
Pahat-pahat in oyster sauce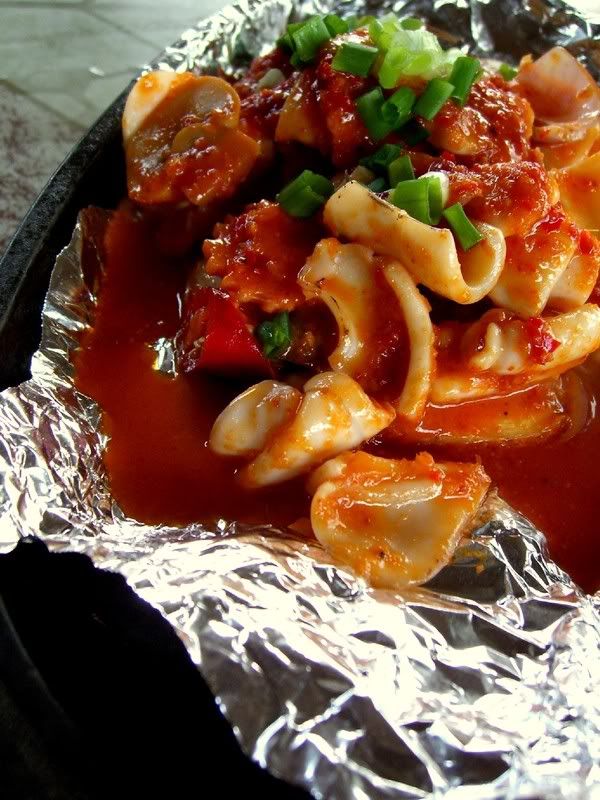 Sizzling calamari in curry
Marmite Crabs
We went to Teluk Intan to check out the leaning tower. This 6-storey pagoda-like structure was built in 1885 by contractor and philanthropist Leong Choon Chong. There is a road named after him nearby. For more description, please click here.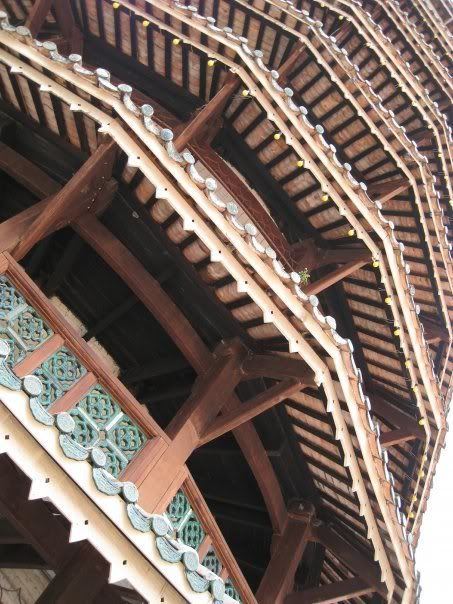 *Leaning tower
Took some pictures and went to hunt high and low for Teluk Intan Chee Cheong Fun but unfortunately, the shop only opens at 7 pm. In Teluk Intan, we saw groups of elderly people crowding together in coffee shops to bet on horses. We didn't know how was it done but we could see money changing hands. These people are seriously hard core betters. Isn't this a great past time? Squabbling over a cup of hot coffee and some kuih muih on horse racing with like-minded hard core gamblers to kill time. Ah, bliss.
Since the Chee Cheong Fun stall will only open at 7 pm, we dropped by the river near the town and took some pictures. We decided to call it a day and returned to Kuala Lumpur. Along the way, we stopped by Bidor again and had some dinner before we continue the journey to KL.
*The yummy duck thigh noodles
It was indeed tiring just thinking of the food we just had. I don't mind repeating this but not for the time being. I guess I would need to fast for a few weeks to flush out the toxins off my body before taking blood test.
All in all, it was a good trip with great food, awesome company and a fabulous host. We couldn't thank Sharon enough for being such a generous and accommodating (especially to Mr Ketchup with his unique preferences – I-am-not-fussy-I-am-particular) host.
P.S. Pics marked with asterix are courtesy from Mr Ketchup aka – I-am-not-fussy-I-am-particular. Thanks!
Tags: cuti-cuti malaysia, sitiawan, teluk intan