Saturday was hectic. I went to work on boss' request even when I was not on duty. Ok. Not on his request, but basically, on my own initiative to ensure his trip to Russia would go without a glitch. His documents, last minute requests for things, etc. I was glad I went. He's an aging man and keeps forgetting things.
Saturday morning, before I wake up, my sis received a text message from our common friend, Jovy the beautician. She conveyed a bad news of the passing of her dad. I went to the funeral after lunch to console the sisters.
After attending the funeral, I went off to get manicure and pedicure done. Talk about lousy time management. It was supposed to be a 1.5 hours thingy and ended up consuming more than 2 hours. I had to rush back to my house to take bath and put on minimal make up for the night out, trying hard to prevent my make up from melting in the heat. It's so damn hot these days, huh? Probably, I should bathe before the manicure and pedicure. Silly me. It was understood that we shouldn't wet our nails after treatment because the coating on the nails are actually not dry till some 3 hours later, even if the surface appeared to be dry.
Hot Momma aka the Mee Hoon Queen – new nickname coined by ML came to KL for last minute new year shopping. We decided to hook up and go for dinner and drinks. I was rather surprise that Pilot Boy decided to join us at such a short notice. It was good to see this old chum again in a club after so long. We reminisced old times – the days in Waikiki when I got very drunk for the first time and ended up spending the night at one of his many girlfriends' house – Ja-NERD. Hahaha. Yuin decided to come to meet up with our fabulous host when we were in Sitiawan. That made four of us.
Had dinner at Palacio and we were the only patrons there. I think most people would prefer having dinner at mamak than squander all their money on booze. The food was mediocre and we had our first drinks there – some sangria and laici martini. I had the paella (Spanish claypot nasi tomato).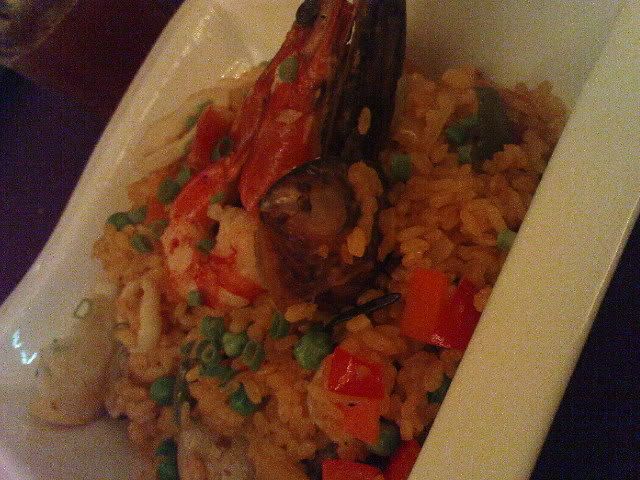 Spanish nasi tomato
We proceeded to Bar Savanh and disappointed that the crowd was not there. Where did the hip and happening people go? After a few mugs of beer and long island tea, we decided to look for greener pastures. (Read: Girls showing more flesh in sexy little outfits and good looking men fresh out from commercial prints). We settled at Bar Club after walking around to search for a bar with the most people. It was a bit lala-ish but the crowd was more casual and fun, unlike the pretentious Bar Savanh. Pilot Boy called it a night because he had an early day the next day.
Attempted to dance – after much, MUCH persuasion and after a few glasses of drinks – one rum coke, one mai tai, a test tube shot of apple juice and vodka. Was surprise that there were hot ladies dancing up on the first floor behind a glass panel; wearing only a sleeveless shirt and black panties. No wonder all the guys kept staring up and the dance floor was packed.
A black guy suddenly swerved into our little circle and led me away much to Yuin and Meehoon Queen's amusement. After 30 seconds, I already felt weird as everyone was staring at me and the midget. Yes. He's very short, and it didn't help either that I was wearing a pair of 3-inch heels. I know some of you might find this kinky but I don't. Rather than having him dancing to my boobs, I quickly led the two laughing hyenas away from the dance floor. Thanks very much for not saving me.
After that trauma, Yuin knew that I very much needed a drink to wash the bad memory away and got me a Cosmo. I think I couldn't drink that much anymore. Sangria, laici martina, 2.5 mugs of beer, rum coke, mai tai, apple juice vodka and cosmopolitan and I was already seeing stars.
We decided to call it a night after all of us starting to laugh at each other for NO apparent reason. *Hic* Time to hit the hotel. We are responsible citizens – we don't drink and drive. I thought the night would end up with a blast. Indeed. It was a blast. I fell off the pavement minutes after we left Bar Club and almost busted my knee cap. HAHAHAH. Mr Ketchup said, probably ML's jinx rubbed off on me. HAHAHAH. *Hic* Luckily I didn't break my old bones or else, I don't think Yuin – no matter how macho (and handsome) he is, he won't be able to carry me. HAHAHA. *Hic* Stupid 3-inch heels! I think it's karma for laughing behind a friend's back for sleeping on the pavement when he was pissed drunk.
The Wicked Pitches with a P
We started the next day early. We were rather relieved that there was no hang over. We woke up early and had scrumptious breakfast at Yut Kee, the Hainanese restaurant. We were going to KL Pac Open Day event to watch Mr Ketchup performing with his acapella group, the Wicked Pitches with a P.
Hot Day
It was a hot day. There were hordes of people walking about. There were workshops on acting, reading, etc. Show cases of art, photography, stage props, etc. There was this thingy called Bhutto dancing which gave me the creeps. If anyone were to play that music at night, in fact, any time of the day – I think one would unknowingly attract spirits from the afterworld. When everyone was busy taking pics of the Bhutto dancers… I took the pic of this hot looking guy. Isn't he gorgeous?
Hunk!
After watching Mr Ketchup belting his lungs out, we went home. It was a dog tired day. However, I still have another session to go at night and decided to put my sweet and sour chicken to test at Datin's dinner for dear Ryne, who just returned from Australia for holidays. Imagine, cooking with 10 nicely manicured finger nails. I couldn't even open a new bottle of ketchup without help from my mom! That explains the haphazard way of cutting the vegetables too. Tragic. Ok. No more excuses the next round.
The generous spread
Dinner was great. I had my first lou sang before the new year. The regular parasites were there for dinner and we had a new friend with us for the night. I guess this is probably the very few times we have a straight man (Is he? LOL) to dine with us; other than the ever vivacious Dr Andrew.
What does the title (red underwear) got to do with all the above? Well…. actually there is none.. I just want to bitch about Mr Beep Beep – when he asked me to do the impossible by booking an air ticket for one Mr X on days when there is no flight, I said to him, well, maybe we should ask Mr X to don on red underwear and fly back. He laughed.
P.S. Sorry for the terrible pictures. Was trying to snap with the camera phone and also getting used to my old Ixus50.
For other booze parties stories, click here.